I've missed you! It's good to be back to connecting, although I did enjoy the brief self-imposed technological exile.
My Thanksgiving morning began with a panic over the pumpkin pie recipe, which I was baking by myself. I made it through the first step, which was putting the canned pumpkin in a large bowl. The next step required me to add 2 "slightly beaten" eggs, and I had no idea what that meant.
How can eggs be slightly beaten? That's like saying someone is slightly married; you either are or you're not. I decided to beat the eggs regularly, and then waited for Husband Charles so I wouldn't cook anything else solo.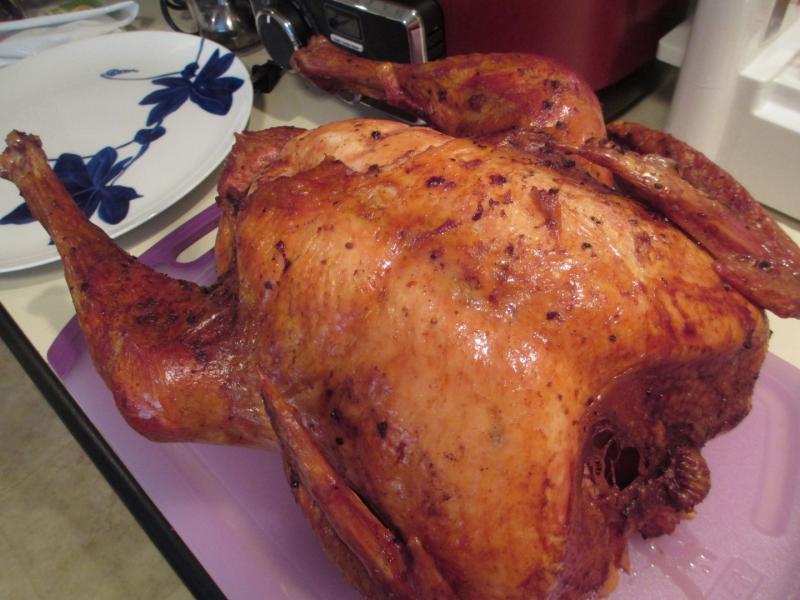 He has a lot more experience and knowledge about cooking than me, and I'm very happy to give him the lead regarding food planning and combinations. We call Charles the "full chef" and me the "half chef" (and when combined, we call ourselves "the chef and a half").
The full chef was in charge of the turkey, and that turned out splendidly. Charles uses the French method of keeping the meat moist: he rubs duck fat both under and over the skin. He bakes the turkey at 500 degrees for the first 30 minutes, then at 325 for the remainder of time (which is 16 minutes per pound).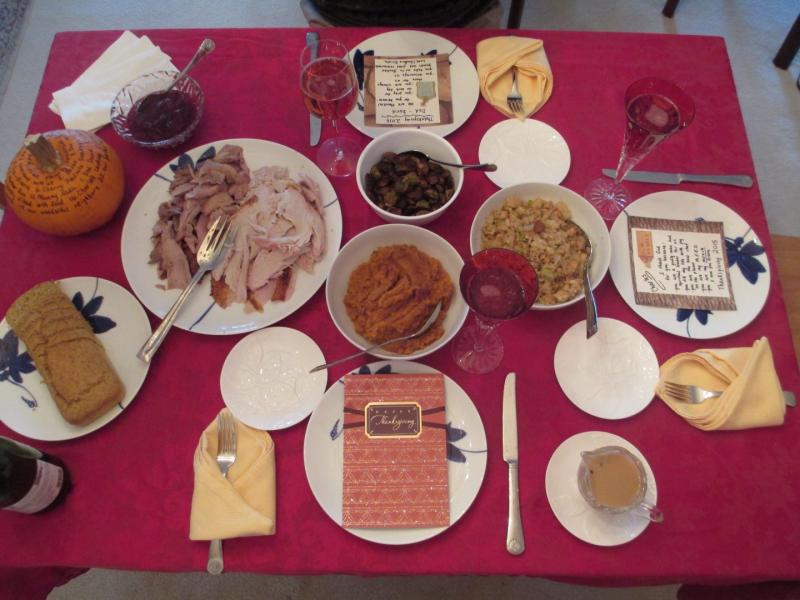 Our Thanksgiving spread was very plentiful, and we were thankful for everything on the table, even the two dishes that needed improvement. I burnt the brussel sprouts, so let's skip over my mistaken method of cooking those little cabbages (my father, David, was extraordinarily kind and stated he preferred them that way). I also made flax bread for the first time, but it needs a little something-something so we're going to work on this recipe to share a bit later (Dad came to my culinary self-esteem rescue again by having four slices of it).
On to my successful recipes. The cranberry sauce was delicious. The recipe is really simple: for every cup of cranberries, add half-cup of water and half-cup of honey. Cook until the skins pop and the mixture thickens. (We believe in having a strict avoidance of sugar, so we use natural sweeteners like honey or maple syrup for cooking/baking.)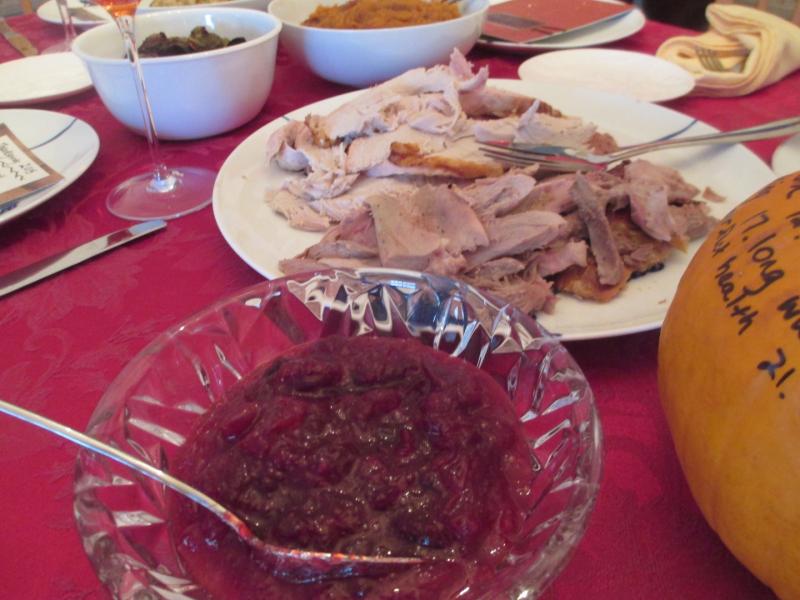 There were no leftovers for the mashed sweet potatoes, so this is one recipe that definitely must be shared. My very scientific method is to add a pinch of sea salt, a handful of crushed pecans, a dollop of maple syrup, loads of butter, and a sprinkle of pumpkin pie spice.
And regarding that pumpkin pie, slightly beaten eggs or not it came out wonderful. It's very rare for anyone to want seconds when I cook (show me grace, please, it's not a natural talent of mine), but all three of us had two slices each. This recipe included 1 can of pumpkin, 2 eggs, three-fourth cup evaporated milk, half-cup honey, and two teaspoons of pumpkin pie spice. Bake at 425 degrees for 15 minutes, then 325 degrees for 40 minutes.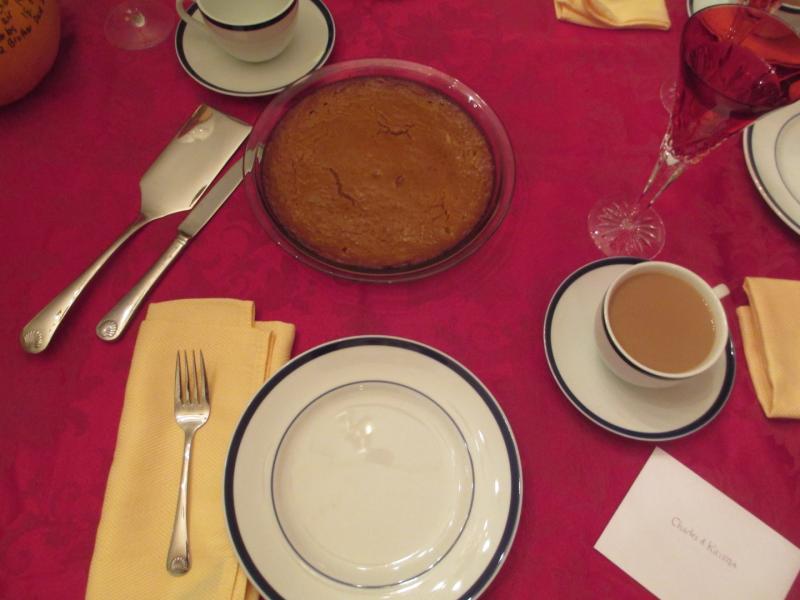 Let me interrupt this recipe reveal to state that I have no idea about the formula for the pumpkin pie spice mix I was using. Charles made a large batch of it, and he knows the combination is cinnamon, nutmeg, ginger, clover, and allspice. But he didn't take note of the proportions at all, so unfortunately the most perfect pumpkin pie spice I've ever had will never be repeated.
And there you have it, the great culinary divide between Full-Chef and Half-Chef. I measure everything precisely (yes, I use a knife edge for smoothing out exact measurements) and follow the recipe exactly. Whereas, there's never been a recipe that Charles didn't modify, and he never measures anything.
His favorite phrase in the kitchen is, "Are we going to measure or are we going to cook?" My favorite phrase in the kitchen is, "Your cooking is like a beautiful sunrise or sunset," because each is unique and never repeated, and such is the case with Chef Charles's recipes.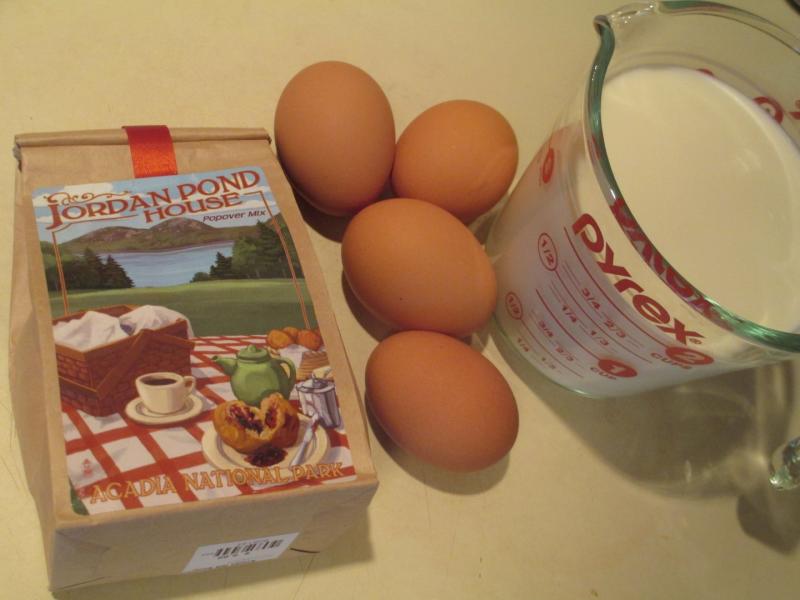 By far the recipe that has given us the most difficulty is popovers. During the first part of our honeymoon, we enjoyed almost daily afternoon tea and popovers at the Jordan Pond House in Bar Harbor, Maine. Then we've spent these next two years trying to replicate their popover recipe, but to no avail.
We have discovered that popovers are complicated, sensitive, and quite neurotic (just like some people, but I'm not mentioning names). After dozens of tries, we've only had our popovers come out perfectly twice. It's not worth the effort; just buy a mix. My mother, Nadia, was kind enough to get us several of the Jordan Pond Popover mixes, which we used when we celebrated a second Thanksgiving with her on Friday.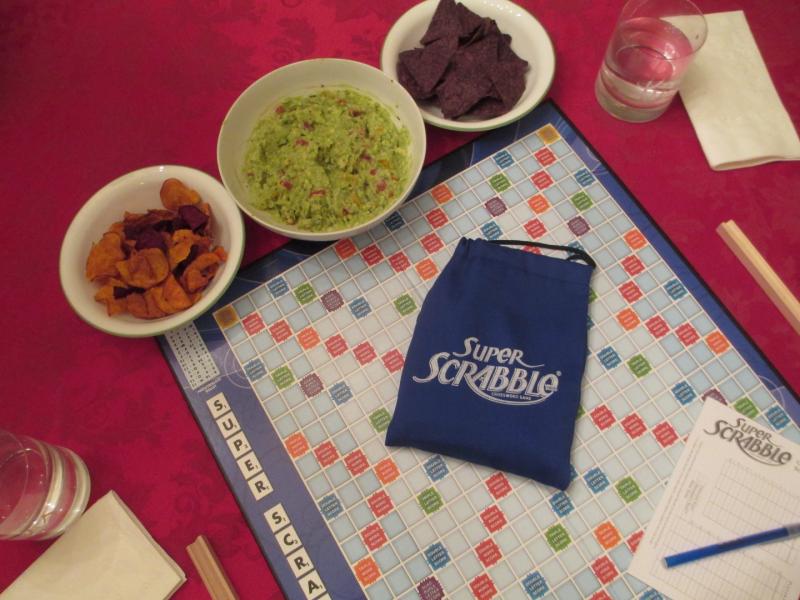 Our plans for getting a Christmas tree on Saturday were postponed due to rain. We had a board game day instead. I began strong in Scrabble and after the first round was leading 18-8. But it went downhill for me from there, and Charles won 610-537 (after playing Scrabble with him for over two years I've only won one game, and that was by one lousy point).
Yesterday was typical for how we spent Sundays in autumn: first church, and then football. Snacking on our delicious Thanksgiving leftovers all afternoon made the Giants loss to the Redskins easier to bear.
For those who had a blessed Thanksgiving, I am so happy for you. For those who had a difficult day, I am here for you and many articles in December will be focused on helping you.