The above picture was taken the moment I gently led my father, David, into a room filled with his family and closest friends and festively decorated to celebrate his 70th birthday.
The image of his face captures the moment of shock when he realized he had just been thrown a surprise party. I'm clapping with delight that Charles (who was the photographer, of course) and I pulled it off and the surprise remained a surprise.
I've since been asked by many how we managed to throw a true surprise party.
The first tip is to keep the invitation number low, as there will be fewer people who can possibly slip and reveal the secret. Invite only those who are closest to the person being celebrated.
In this age of "more is better," realize that enough is actually the best. We were a party of twenty-two people, but each person is very special to David and vice versa. My favorite part of the evening came just before we cut the Yankees cake as everyone shared a favorite memory of the birthday guest of honor.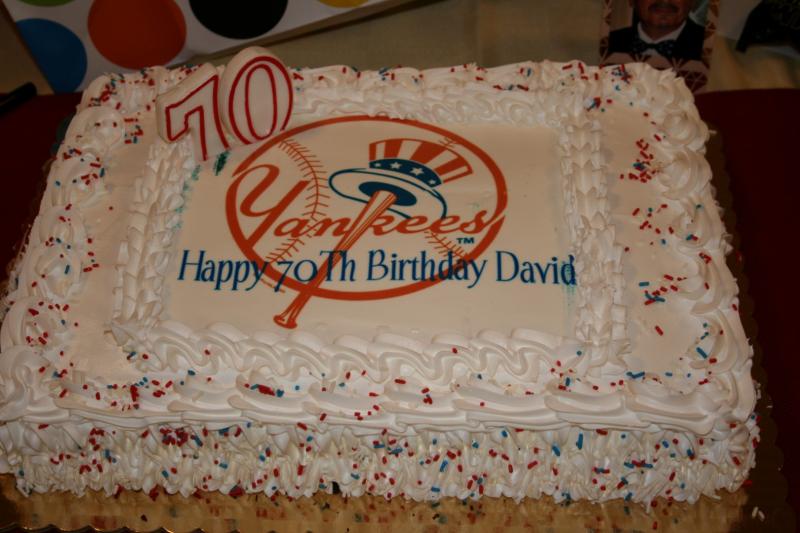 Our second tip is to very gently, but also seriously, threaten to un-invite any person who spills the secret. :-)
At the end of our lovely evening, David sat in his home with the family and almost-family members who traveled from Tennessee, Massachusetts, and Maryland to be a part of his special day.
Dad quoted one of his favorite statements from anthropologist Margaret Mead: "Never doubt that a small group of thoughtful, committed people can change the world; indeed, it's the only thing that ever has." He stated that his world had been changed, as that day had been one of the greatest experiences of his life.
This summer, decide to not wait for a particular occasion to throw a surprise for someone you love. Bring home flowers, or ice cream, or bubble bath. Cook a special dinner and serve it on your fancy china that is usually reserved for guests. Treat today as a special holiday.
It's the little things that make a difference. It's these little surprises that are among the truest joys of life.