I've written before about being a
Gold Star Sister
and losing my brother, Sgt. Jon, in war. This has been devastating in a family as close as ours, but no devastation could be greater than our mother, Nadia.
She joined the American Gold Star Mothers, New York branch in 2011, which is a group of mothers who have all lost a soldier child. Each year we have gone together every April for their annual convention.
The convention is a long weekend for Gold Star Families to comfort each other over our common bond and to share our stories about our soldier. We are also there to celebrate - not, of course, the reason we are there, but to celebrate the lives we remember and the new friendships that have formed.
During last month's convention, there was a ladies tea on Friday afternoon. The women wore party dresses and hats, and were surprised by the most beautiful tea cup themed cake I've ever seen.
It was about that time when the weekend was unfolding that I prayed my usual prayer that God would send what I call a "heart whisper" to Nadia, myself, and all the other ladies and family members gathered there, so we would feel His presence and feel comforted by our loss.
When people ask God for a "sign," most expect something glaring. But I believe God prefers to whisper gently at us, to speak to our heart so His wisdom gradually unfolds.
I always pray for peace for my Mum.
As the ladies event was finishing, gift bags were distributed to each of us that contained tea cups. One Gold Star Mother generously donated her mother's collection of tea cups hand made in England. Each cup and saucer was unique, so no two ladies received the same set.
Mum smiled as she pulled out her tea cup and saucer, with a royal blue rose. That was Jonny's favorite color, and the only one of the cups in that hue.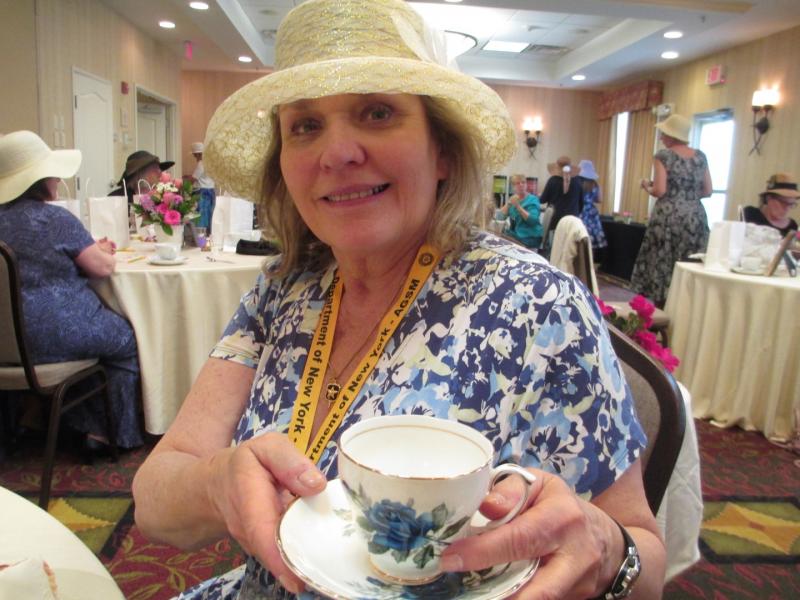 I felt like God was sending a whisper to her heart as He said, "Hello, my beloved Nadia. I'm watching over you. I know you're especially missing your son this weekend, but he's with Me forever in a place of perfect love and peace. As a gentle reminder, I made sure that you got the only royal blue tea cup because that is Jon's favorite color. I love giving these little presents to My children. Now go and enjoy that gorgeous cake."
When it was my turn to unwrap my gift, I discovered a lilac-colored cup and saucer with daffodils. That took me right back to April's in childhood.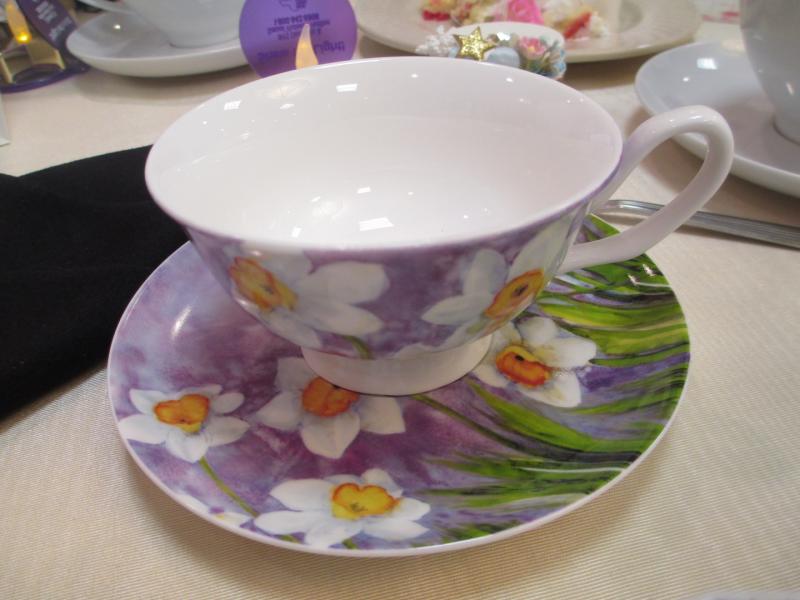 I felt that God was sending me a heart whisper saying, "My precious treasure, Kristia. I made sure you got the only tea cup with daffodils because you have fond memories associated with that flower. Your brother was always so delighted to see them blooming in early spring, and called them 'the happy flower.' Whenever you see this tea cup, remember these happy flowers and be happy. By the way, how did you enjoy that
birthday snow
I sent for you?"
The bags with the tea cups and saucers were randomly given to each lady. But when you ask God to be involved in your life, you realize that nothing is random.