A few days ago I spoke with a friend of mine whose second home is in Jerusalem. She offered me and my family condolences on the loss of my brother,
Sgt. Jon
, as the American Memorial Day approached.
I asked her what the Israeli Memorial Day, called Yom Hazikaron, is like. As she described it, I felt an intense swell of envy, because I wish my country celebrated our holiday as they do in Israel.
On Yom Hazikaron, for twenty-four hours (from sunset to sunset) all public places, including movie theaters and pubs, are closed. All radio and television stations broadcast programs detailing the lives and heroic deeds of fallen soldiers, interspersed with patriotic songs.
The sounds of sirens are heard throughout the land twice, the first at 8:00 PM the evening before and the second at 11:00 AM on the actual day.
During the two minutes immediately after the sirens, all activities are stopped and people's heads are bowed in reverence as they remember their country's deceased soldiers. Even those driving in vehicles stop their car, stand outside it, and lower their heads in prayer.
For those two minutes, after the two siren calls on Yom Hazikaron, there is literally a nationwide standstill in Israel.
In contrast, it is very unfortunate that most Americans are not even aware of the purpose of our Memorial Day. Commercialism now dominates the day, with special sales urging consumers to buy more, spend more, want more.
Memorial Day is not a holiday to celebrate the start of summer. It is a solemn day to offer thankfulness to our fallen American soldiers and the great sacrifices of their families.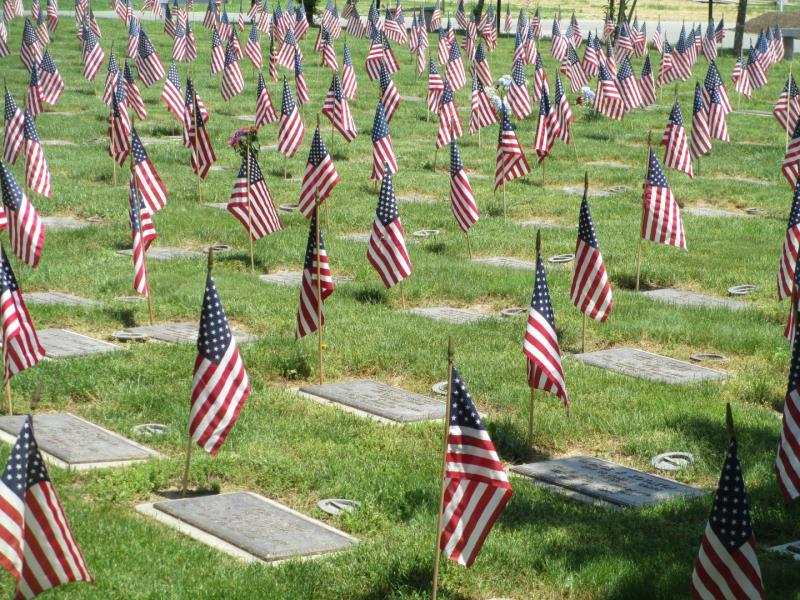 It is easy in a country as powerful as ours to forget our soldiers. America has two friendly neighbors to our north and south, and two large oceans on either side providing security from invasion. We do not have to worry about annihilation as the Israeli's do.
So it is understandable that as a country we have become complacent regarding our armed forces. Similarly, most of us never pay much attention to the front door of our home, we take it for granted because it is always there. But if our front door were missing, we would notice it immediately.
Our soldiers are like that front door. Because of their bravery, we don't have to worry about a foreign army entering our home.
I gently urge everyone who is reading this to spend two minutes on this Memorial Day remembering our fallen soldiers through prayer, the sending of positive energy, or even just a solemn thank you to the heavens.
To all our Gold Star Families in America who are mourning the loss of their soldier, I pray God gives you a solace that only He can give.
"The Lord bless you and keep you;
the Lord make His face shine upon you, and be gracious to you;
the Lord lift up His countenance upon you, and give you peace." Numbers 6:24-26