In 2005, the year that
Sgt. Jon
joined the Army, he was granted a home leave on Memorial Day weekend. Jonny's barber, a World War II veteran, invited him to march in the Wyckoff, New Jersey parade.
Jon was incredibly honored to participate in that Memorial Day procession. I know that if he were here, Brother would honor our fallen soldiers in a special way on that holiday.
Yesterday my dad David, husband Charles, and I honored Jon by participating in a special tribute to Gold Star Families at Citi Field Stadium, home of the New York Mets. (My beautiful and patriotic mother Nadia does not enjoy baseball games, so she declined to join us on this occasion.)
Before the beginning of the ballgame, the participating Gold Star Families and active duty soldiers marched unto the field. We stood shoulder to shoulder as our National Anthem was sung, which ended with an incredible flyover by three military aircraft.
Below is a picture that one of the Mets organizers kindly took of us, as we stood for a few minutes before the song began.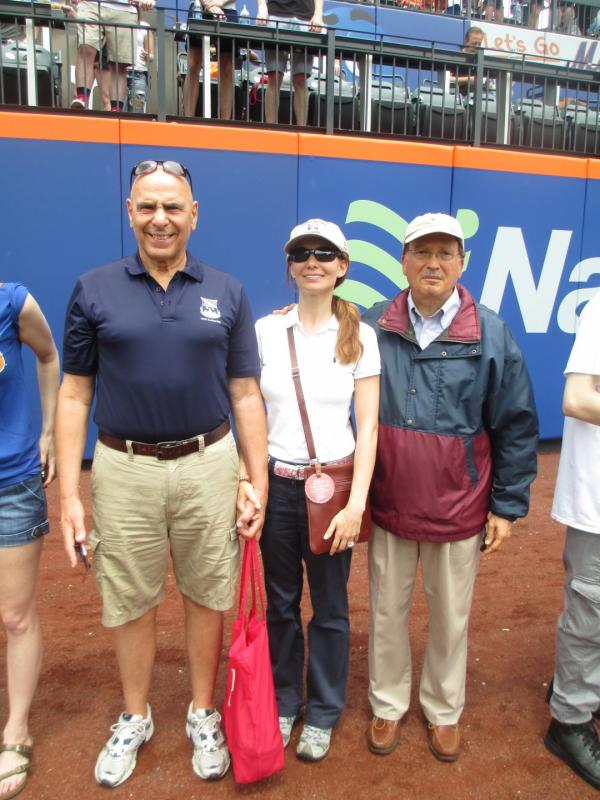 It's very funny, but my family have been loyal Yankee fans for as long as Major League Baseball has existed. But yesterday I saw something that I never thought I would see: David politely clapping when the Mets hit a home run! (Albeit, with much less enthusiasm than when he's cheering the Yankees.)
I want to extend a grateful THANK YOU to the Mets organization, which donated over 1,600 tickets to gold star families, veterans, and active duty soldiers. Their generosity is very much appreciated.