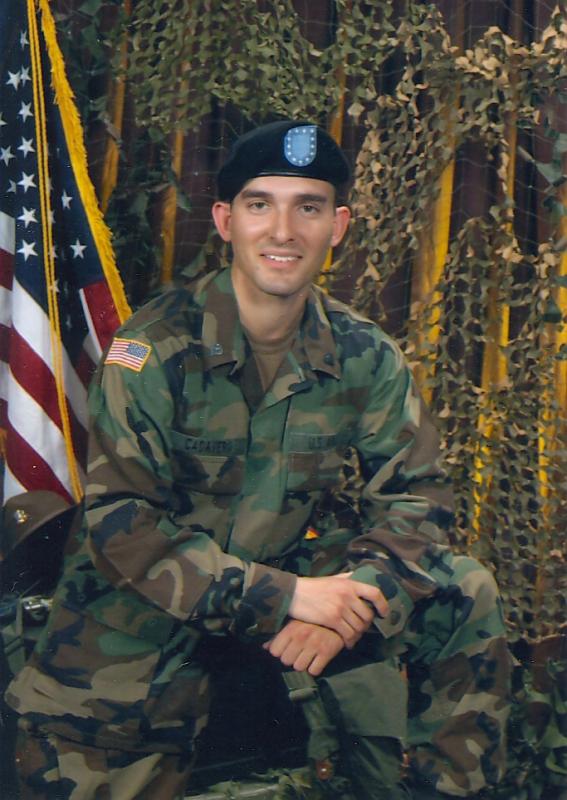 "Whenever you possibly can, do good to those who need it." -Proverbs 3:27
"Evil prevails when the good do nothing." -Sergeant Jonathan "Jon" Cadavero
The first quote above is my brother's favorite Bible passage, and the second is a phrase he commonly said after he joined the United States Army. The latter gives you insight into his life as a soldier, whereas the former tells you a lot about the life he lived as a man.
It was a nightmare experience when our family was told on February 27, 2007 that Sgt. Jon - a beloved son, husband, brother, nephew, friend - had been killed in Baghdad, Iraq as the result of a roadside bomb.
Sgt. Jon's duty in Baghdad, which he volunteered for, was to be the medic attached to a company of engineers whose job it was to find and neutralize IEDs. During the six months he was there with the 10th Mountain Division, Jon went on hundred of missions and saved many lives. But, devastatingly, the very weapon they were hunting for was the cause of Jon passing from this world to the next.
His transit was immediate and painless. Jon was here on earth doing what he loved, and then he was instantly in heaven and surrounded by the Source of all Love.
His death was a shock, as I think all are, even those in situations that are foreknown and expected. Just like everyone else who has had to make final arrangements, my family threw ourselves into what turned into a very complicated funeral that required coordination with veterans groups, patriot motorcycle rider escorts, and the practical shutting down of an entire town to accommodate the thousands of mourners.
The true shock began after Jon's funeral, when everyone gradually began to go back to their regular lives. But for Jon's very closest loved ones, our lives would never be normal again. There would always be the time when Jon was with us, and then the time when he was gone. A before and after; a mark delineating time.
I've found that during those weeks after a funeral, when there is nothing more to plan and the emptiness of the days allows one to truly grasp what it was they lost, those who mourn tend to diverge in their occupations. Some allow themselves to go back to being busy, to force their focus on something else; whereas others allow themselves to do nothing, because there just isn't enough motivation to force them to do anything.
Neither is a danger in the short-term, however, the concern is either group remaining in the extreme for a great length of time. For we were not meant to grieve, all of the time forever, just as we were not meant to keep ourselves so busy that we delay that period of mourning that is necessary to heal.
My struggle for the last eight years has been with survivor's guilt. Jon and I were three years apart in age, but we were very close in spirit and had the same hobbies, interests, and friends. We even went to the same college together.
Sometimes it hits me very hard, the injustice of it, of my being able to experience all the good things that make a life, while Jon left this earth too soon to experience the same.
Occasionally I have what I call are "mourning moments," when the grief suddenly swells.
There is no proper time for mourning, because everyone is different. I don't think the level of grief decreases any, just the periods of time between grieving gets longer. My mourning moments have greatly lessened, although there was a time when they were almost always present.
For all those who grieve a loss of any kind, I don't have the answers. But what I do have is some very wise advice to share, from people who helped restore me, and I will write about this in the hope that it will help you heal also.